AC Milan midfielder Gennaro Gattuso has insisted he will not hang up his boots despite being diagnosed with a career-threatening eye complaint that has kept him sidelined since the opening match of the season.
The 33-year-old has not played since being substituted during the first half of Milan's 2-2 draw with S.S. Lazio on 9 September, after colliding with team-mate Alessandro Nesta. "That was not the cause of my problem, but it was an incident that helped me discover I had one," Gattuso told a media conference in Milan on Monday. "The 20 minutes I played against Lazio were a nightmare. I felt drunk. I could see Zlatan Ibrahimović in four different positions. Unfortunately, I always listen to that voice telling me to keep going. I was lucky to have good reason to stop after I ran into Nesta."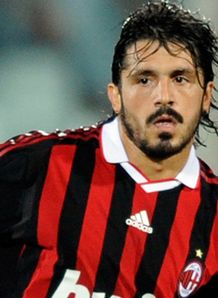 Gattuso has been diagnosed with sixth nerve palsy, a disorder associated with the dysfunction of the cranial nerve that controls eye movement and which is difficult to treat. "In 25% of cases the palsy of the sixth optic nerve occurs for unknown reasons," explained Milan's chief medical officer Rodolfo Tavana. "Sometimes it's a cancer or a stroke but we had two different scans from different specialists and both excluded those possibilities. Often this kind of problem clears up by itself in a period of two to six months."
In Gattuso's absence, Milan have made a slow start in Serie A, lying seventh after seven matches, though the Rossoneri top UEFA Champions League Group H with seven points from three outings.-
http://www.uefa.com