Stoke striker still feels he can contribute at international level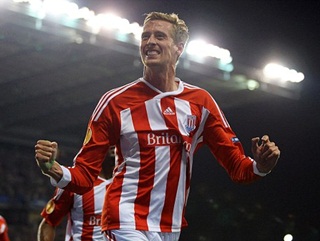 Stoke striker Peter Crouch is targeting a return to the England fold but accepts it will probably only be after present boss Fabio Capello has left.

The 6ft 7in hotshot has netted 22 goals from 42 appearances for the Three Lions but has not featured for the national side since October 2010 in the goalless stalemate with Montenegro.

 While the 31-year-old has not given up hope he may still make the Euro 2012 finals squad, he is looking forward to a fresh start under a new boss when Capello steps down after the tournament in Poland and Ukraine.

The striker told The Sun: "It's been on my mind that whatever I have done for England under this manager hasn't been enough for whatever reason. I'll do whatever I can to be involved in the Euros but I'm not hopeful.

"I've still got enough years left in me to think that I can play for England for some time. After the Euros I'll hopefully be involved again.

"The manager has said he is leaving so after that it might be a fresh start with whoever takes over.

"I don't think Fabio Capello has ever been to the Britannia Stadium, so it's difficult to catch his eye.

"I've never let England down when I've played for my country. My scoring record is up there with other decent players." - http://www1.skysports.com/


Get the great ODDs for online sports betting at 12BET. Good Luck!!!